Member News: Hill College women's basketball team filled with youth, speed
Hill College Head Women's Basketball Coach Scott Hyland has continued his tradition of building and developing a national contender program as the 2022-23 women's basketball season has officially begun.
Although finishing first in the conference three out of the last four years (including a 13-3 conference championship finish last season), Hyland has been working with several new faces on this year's team.
"We are obviously very young with 12 freshmen and 13 newcomers, but I really like our group," Hyland said. "We have more size, speed and scoring ability than we have ever had. It has been challenging this preseason putting our two units together [he rotates two units of five every 90-100 seconds throughout the game] with so many new athletes learning our system and trying to get a feel for everyone's strengths and what they can contribute on a consistent basis."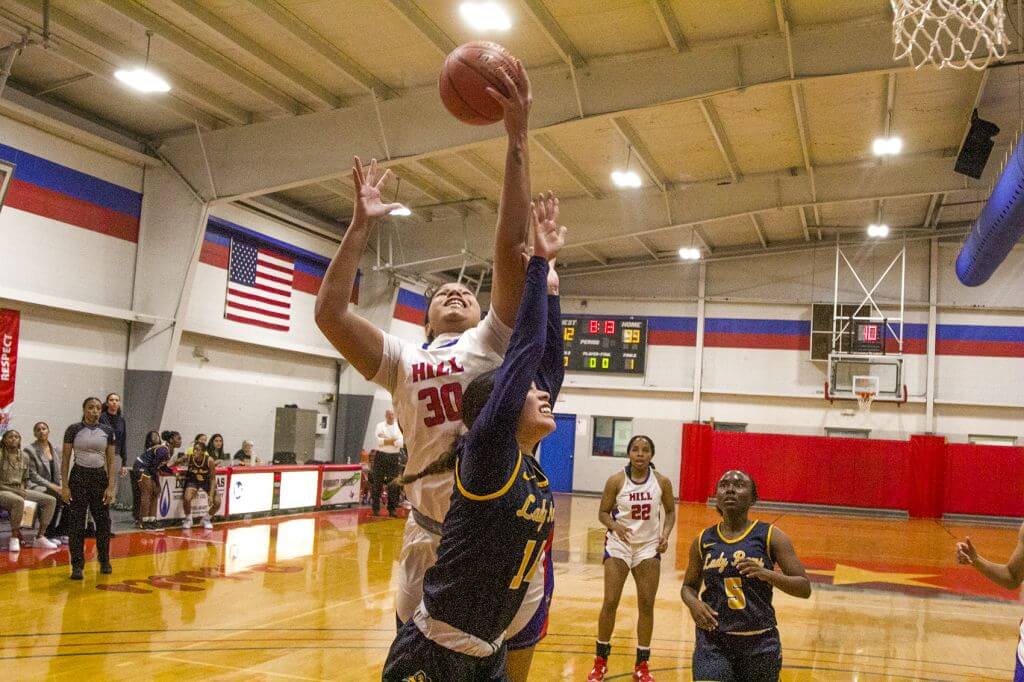 Among the 12 freshmen players on this year's team include preseason standouts Trinity Bane, K.J. Walker and Alyssa Berry.
Hyland said Bane, a 6-1 post from Pharr, has been one of Hill College's top scorers and rebounders during the preseason. He also said Walker, a 5-7 point guard from Keller, has been one of the team's more consistent scorers thus far.
He also said Berry, a 5-5 wing from Pearland, is "probably the team's best athlete" – as she is very explosive going to the basket and an exceptional shooter who has been the team's top 3-point shooter this preseason.
Another newcomer to this year's team is transfer Giani Wimbish-Gay, a 5-8 combo guard from Victoria who averaged 7.3 points per game for The Master's (NAIA team) who also were national quarterfinalists last season. She also started in 32 of 34 games.
"Giani is very athletic and has played very well at times during our preseason scrimmages," Hyland said. "She has the ability to dominate the game with her defense and can score at all three levels (the basket, mid-range pull up, and from the 3-point line).
Returning this season for Hill College is sophomore 6-2 post Brandalyn Rice – last year's All-Conference Honorable Mention and Runner-Up for the Conference Freshman of the Year. Last season, Rice averaged 9.9 points per game, 6.4 rebounds per game, shot 57 percent from the field and made 65.7 percent of her free throws.
In order to prepare this year's relatively new team, Hyland has put together a pretty rigorous non-conference schedule that includes at least four NJCAA preseason nationally-ranked opponents – not to mention several other quality opponents.
"We may experience some growing pains early in the season, but I really like the makeup of our team and feel good about the growth we have had thus far as well as the direction we are moving toward," Hyland said. "Now we need to get out and play – and do what we do to the best of our ability."
Hyland also has two talented assistant coaches that have continued to help provide the instructional framework for the Hill College women's basketball program.
Wanda Talton enters her fifth year as an assistant coach for Hill College. Over her first four years at Hill College, the program has continued to flourish while building a record of 81-41 and three straight regional tournament appearances.
Dwanisha Tate is new to the Hill College coaching staff this season but has already impressed Hyland with her coaching abilities and work ethics.
2022-23 HILL COLLEGE WOMEN'S BASKETBALL ROSTER
1 Mercedes Mancha W FR Manvel, TX
3 KJ Walker PG/W FR Keller, TX
4 Mallory Patel W FR Lufkin, TX
5 Mia Thomas PG/W FR Humble, TX
11 Giani Wimbish-Gay PG/W SO Victoria, TX
12 Peyton Foster F FR Cypress, TX
15 Tse Morgan F FR Somerset, TX
20 Sophia Hurtado F FR Cisco, TX
21 Valeria Martinez-Lopez W FR Malaga, Spain
22 Myleah Young PG FR Midland, TX
23 Trinity Bane F FR Pharr, TX
24 Alyssa Berry PG/W FR Pearland, TX
30 Brandalyn Rice P SO Victoria, TX
32 Iasia Goldman P FR McAllen, TX
About Coach Scott Hyland
Overall Head Coaching Record: 327-259 (includes 195-104 record at Hill College)
Entering 11th season as Hill College's Head Women's Basketball Coach
2012-22 Record: 20-11 (13-3 in conference) – Conference Champions